I was over-the-moon to become a mama for the fist time back in September 2019. Every day with my baby girl Ela is a new adventure, she fills our home with joy, happiness and giggles.
But looming over my joy is also the reality that I have to run and build my jewellery business. Over the years I was concentrating on making contemporary jewellery with silver and silicone as well as my little Hand collection. But just as I got pregnant I decided to change my business idea completely, rebrand it and start making fine jewellery with contemporary twist using precious metals and stones. While I was still pregnant I did most of my designing and prototyping for my new fine jewellery collection 'Sirens'.
Before Ela was born I tried to plan out everything as much as I could. I had some crazy ideas of things I will do while she is a little baby, just sleeping all day long while I'm running around London and doing everything the same way as I was used to, just with a baby in a buggy. But one thing motherhood has taught me is that it never works out the way you plan it! When Ela arrived I quickly realized she would be leading the way. All that planning goes out the window and intuition kicks in and you just do what feels right.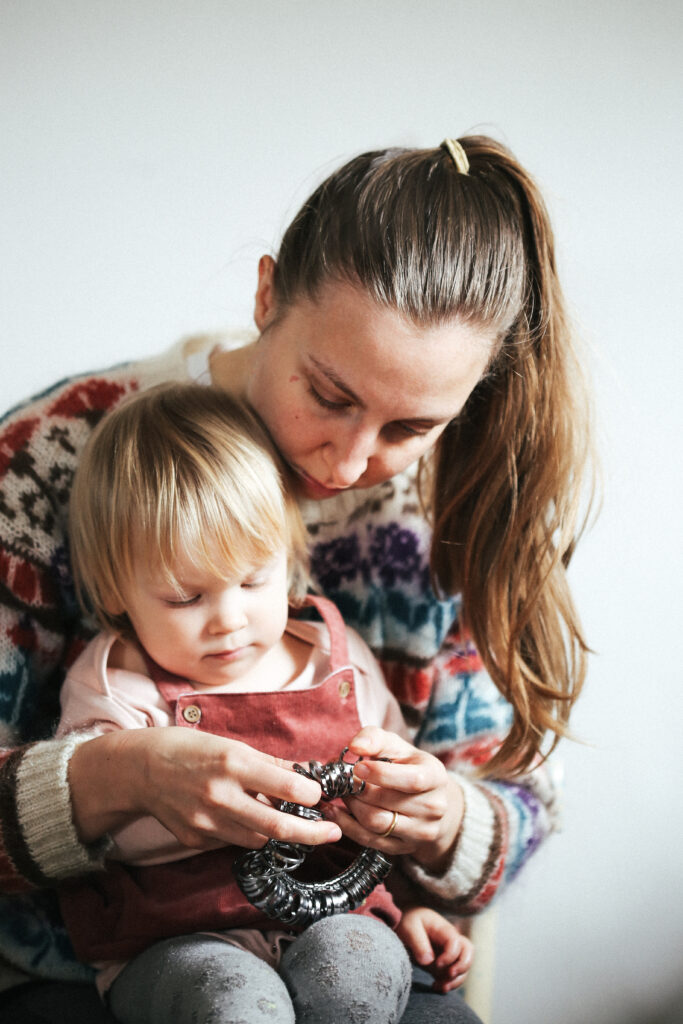 Once Ela arrived I started making final designs by hand, I squeezed in a lot of the work within naps or while she was out on long evening walks with her daddy.
It was like I had two newborn babies to take care of. It was overwhelming trying to make my new work while taking care of my newborn as well as dealing with clients and preparing new collection to be launched. As you might already know at Dovile Bertulyte everything is done… well by me, starting from making actual pieces, taking photographs, doing all the admin and all the way to promoting it and talking to clients! So you can imagine I have very little energy left at the end of the day. However, first months of having a baby are fuelled by some sort of happiness hormone as well as probably a lot of adrenaline, so it made everything seem to be a lot easier even if I slept only slept for 5 hours every night. Ela was never a good sleeper, even now at 17 months she wakes up every night and every hour for a quick night snack of delicious mummies milk!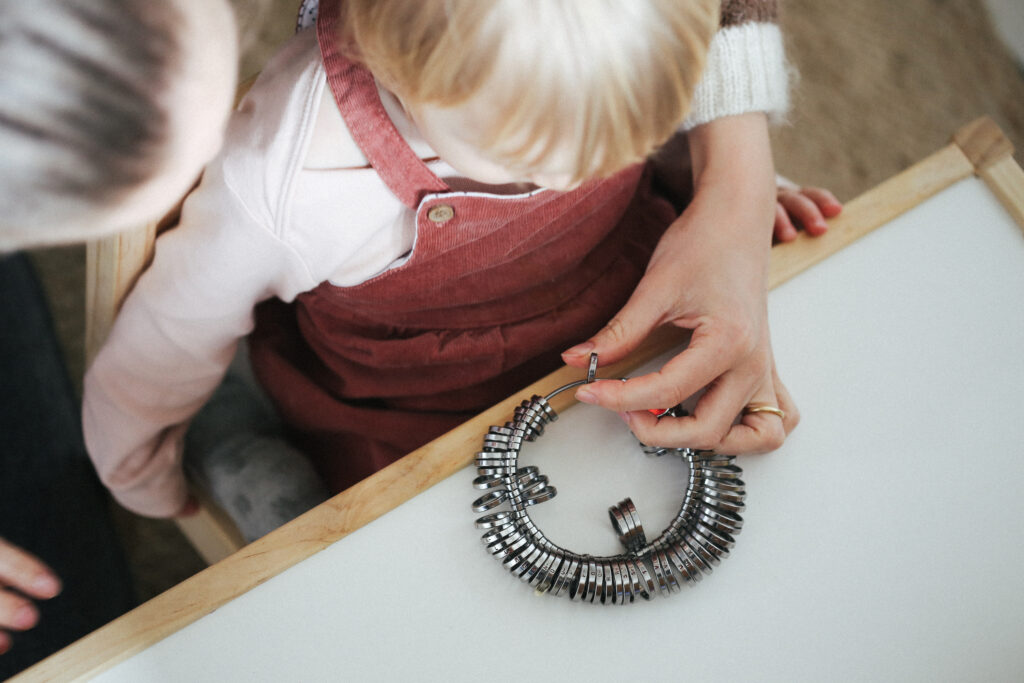 And so just before Christmas 2020 my 'Sirens' collection was launched and I was burned out! I realized that rather than feeling defeated, I should just give myself a break and allow myself to enjoy my precious time with Ela. My first year of motherhood trained me to be more patient, work more efficiently, and be more forgiving because I can't do it all. I took some time off to re-evaluate what I was doing and who I was doing it for and find out what exactly made me happy.
Now I try to give myself 1-2 attainable goals each day no matter how small even if it's just to reply to few emails or go to post office.
Like many mothers, my child is also my inspiration. I am exhausted most days just from juggling a toddler while keeping up with my business and crazy new ideas, but I now enjoy a renewed sense of creativity. My daughter Ela is growing so fast and that also made me realize that time is fleeting so I cherish the time with my loved ones even more now.
Since becoming a mother I changed as a person I grew in my confidence and found new inspiration with my business and in life. When after a few months I finally went back to my studio in central London I just got this feeling that it wasn't as important anymore. I realized  didn't want to spend two hours commuting and wasting my time that suddenly became so precious. As soon as I stepped out of the Holborn Station I felt alienated form London and it masses of people rushing around, the noise, dusts and rubbish. My child became the most important thing in my life and everything that didn't fall into my new values as a mother just fell away. So I decided to say goodbye to my lovely studio at lovely Cockpit Arts as it just didn't fit in anymore, and I moved my studio to a spare corner of our new flat. Just like many of us at that time due to Covid-19 I started to work from home, and I was back to where I started 5 years ago. But this time it felt right!
My advice would be to first understand that everyone's situation is different and to try and not compare with other mothers, other jewellers, or even other some random girl you saw on Instagram!  In my case, it was about finding balance, peace and contentment within circumstances in life that I had no control over. I had to learn to let go.
To any new moms or wanting to become a mom I just want to remind that it is important to be as gentle with yourself as possible. Don't set up too many expectations of how you think it will be and surrender to the flow when things change. You may think you know yourself, but you don't know how your baby will be, and you won't know the rollercoaster ride of emotions that come with being a new mom. You have all the rights to change your mind, give yourself space to feel all the feelings, and make self-care a regular practice in your life. If you do those things, you will find the balance that works for you.
Being a mother is such a hard work and sacrifice, I feel like it really should be celebrated everyday, not just one day of a year! All mamas our there deserves a little bit of sparkle in their lives.