With Covid-19 lockdown restrictions easing and vaccine roll out in place we hope this Summer will be filled with long planned wedding.
While we are still in lockdown you probably have lots of time to choose that perfect unique wedding band online and do all the possible research. However not being able to to try your dream ring on might feel a bit worrying, so I thought I will make a guide to help you.
1. How Long Does It Take To Get Your Handmade Wedding Band?
If you don't want you wedding band from a high street jewellers (we hope you don't!) I do recommend starting your research sooner rather than later. Give yourselves at least three months before the wedding date to browse and get inspired, research prices and commission your chosen jeweller. If you decided you want a completely bespoke handmade ring it will take time for a jeweller to design in, make prototype and have it finished in a size that's perfect for you. Also things like engraving or extra stones can take up additional month to be done. So if you have a chance, don't leave your wedding band to the last minute.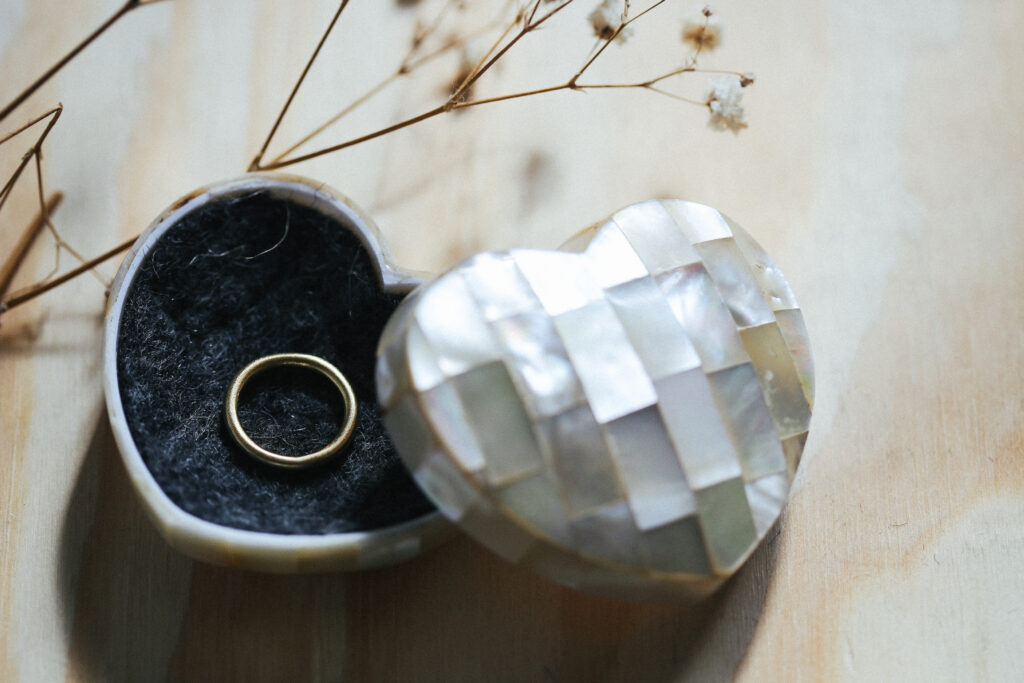 2. How To Choose Your Perfect Ring Size When Buying Online?
We hope you will wear your wedding band most of the times – when exercising, rock climbing, skinny dipping in the lake, during hot summer days by the Ocean or skiing down the mountain top. So that's why choosing the right ring size is very important as your finger size tends to change during the day and depending on your activities.
Measure your finger or do final ring fitting at a time when you're calm and your body temperature is normal. First thing in the morning, right after exercise or when you're extremely hot or cold might not be the best idea. To get
Having a ring sizer at home gives you the most accurate ring size and they are quite handy to have anyway. I know offer these ring sizers free of charge on my website for all UK clients. They are easy to use and gives you piece of mind when you order your ring. You can read it here of how to use your new ring sizer.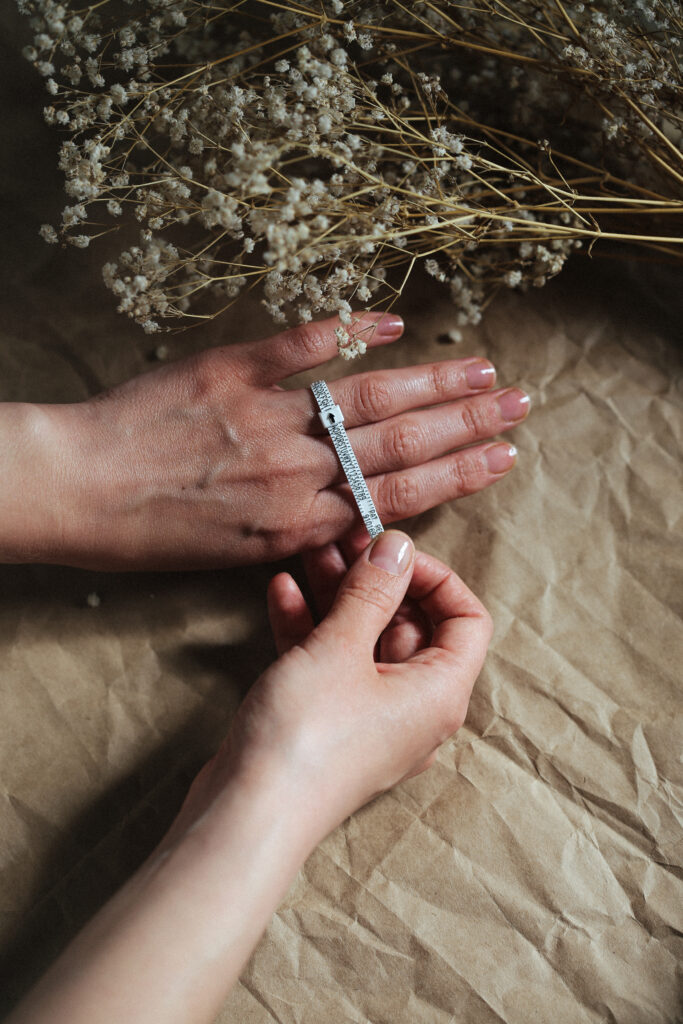 3. How to narrow Down Your Wedding Ring Choices?
If you type in on Google 'Wedding Ring' the results might seem a bit overwhelming and a bit scary, just like when you Google "what's that weird couth I had this morning". But don't panic just yet! Start visualizing what kind of ring you would like. I would start with creating Pinterest Board.
Think what metal you like – is it worm yellow gold or cold platinum, is it simple round band or does it have any stones on it? Full eternity ring, half eternity ring or scattered stones all around? Do you want your wedding ring to match your engagement ring? Is it high polished, matt finish, hammered, frosted, braided, you get the idea? Also think what shape you would like your ring to be is it flat, half round, geometrical, facetted, thick or thin?
If you can't work out answers to any of these questions, don't worry, the best thing to do is to chat with your jeweller, then let them make suggestions based on what you like or don't like.
4. Should Wedding Band Match Your Engagement Ring?
NO. However, thinking of your engagement ring might help you to narrow down your options. If you have a very unique and out there engagement ring, you may want a simple band that doesn't fight for attention alternately if you have simple engagement ring you can for a fancy wedding band with a few gemstones in it or full on eternity band. Also think about how the rings fit together, if your engagement ring has a large or unique shape stone you might want to consider making bespoke wedding band that fits your engagement ring perfectly. If you're planning on wearing your wedding ring alone, you may want a more intricate style that will look great with or without your engagement ring.
If your engagement ring is platinum or gold you might want to keep it consistent and choose same colour wedding band.
5. Is It Ok To Mix Up Metals for Wedding Bands?
YES! Don't worry if you like rose gold and your partner likes platinum wedding bands. There's no rule that says you have to choose the same metal. Even the style can be different – does he like thick high polished band and you prefer unusual textured ring? It all work well as long as you are both happy with your choices.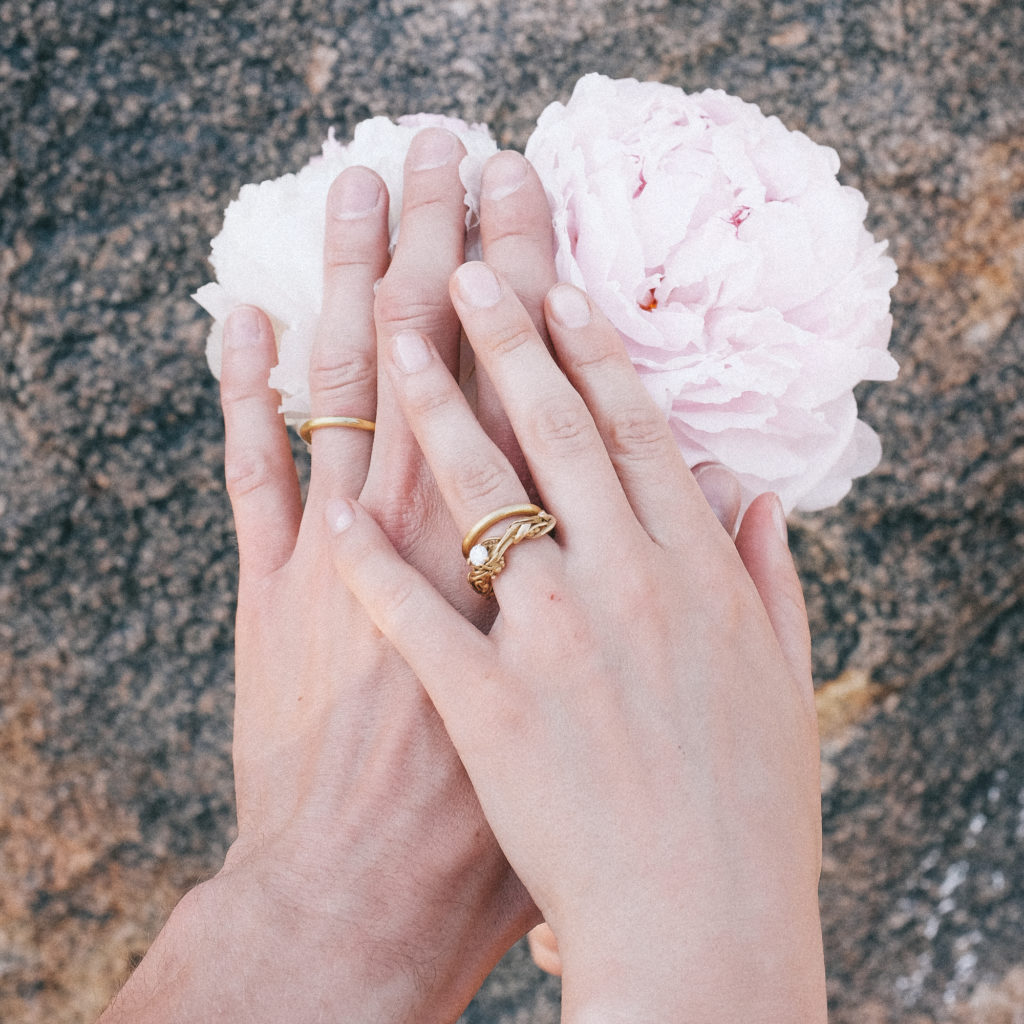 6. How Much Does a Bespoke Wedding Band Cost?
Knowing your budget makes it a lot easier for you to choose a ring and for your jeweller to offer you the best ring within your budget. So it's entirely up to you of how much you want or can spend on your wedding band.
If you have a small budget rings can be made in silver and in a few years time if the financial situation improve you can commission a new ring in a precious metal like gold. 18ct gold or platinum will be your most expensive option, then followed by 14ct gold and 9ct gold.
You can expect gemstones or custom engraving to add up to the cost quickly
7. What's Best Metal and Shape Wedding Band for Active Lifestyle?
It's important for your wedding band to be as comfortable as possible because it will become a part of your life. For example if you play musical instruments, a comfort fit ring with rounded edges may make the most sense. If you work a lot with your hands (e.g. making handmade jewellery, like me! :)), you may consider simple, solid metal ring without any gaps to avoid trapping dirt and avoid gemstones that can get damaged. If you do lots of active sports, like rock climbing or weight lifting, go for platinum it is the most durable metal and is nearly impossible to be scratched.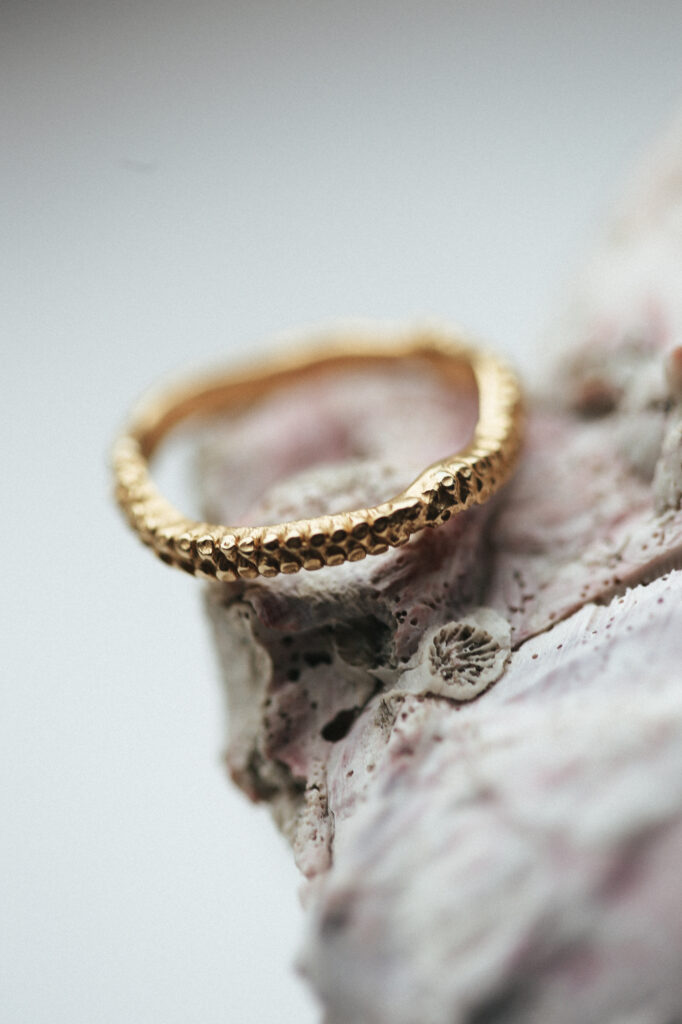 8. How to check the quality of your wedding band?
Make sure your rings have UK hallmarks from Assay Office inside the band. This proves the metal quality as well as who and when it was made by. Also, once receive your rings check they fit perfectly – not too loose not too tight. If your rings has stones in it, it could be good idea to check them out if non of them are loose of course this sure will be done by your jeweller, but things can happen in the post too.