You may have noticed that all of my jewellery has a little hallmark stamped on the metal. It's either on the inside of the ring, behind the earrings and pendants or on more intricate pieces somewhere tangled between seaweeds. It is interesting to examine them as each mark has a different meaning behind it, but how to know what mark means what? That's why I wanted to write this post as an explanation of each symbol and the historical background of it.
In the UK it is a legal requirement to have all work in precious metal hallmarked (over a certain weight).  Jewellery weighing at over 1g of gold and over 7.78g of silver must be checked and hallmarked at Goldsmiths' Company Assay Office. I use the London Assay office as this is where I live and work, but there are few more of them around the country. London Assay Office is the oldest in the UK and dates back to the 14th century, when hallmarking began. You can read more about the history of hallmarking on the London Assay Office's website.
The hallmark shows the purity of the precious metal, it also tells us where and when in the country it was hallmarked and most importantly by who.
Let's have a closer look and examine this silver cuff. It has been gold plated, but the hallmarks do not reflect on it as it's a very small amount of gold.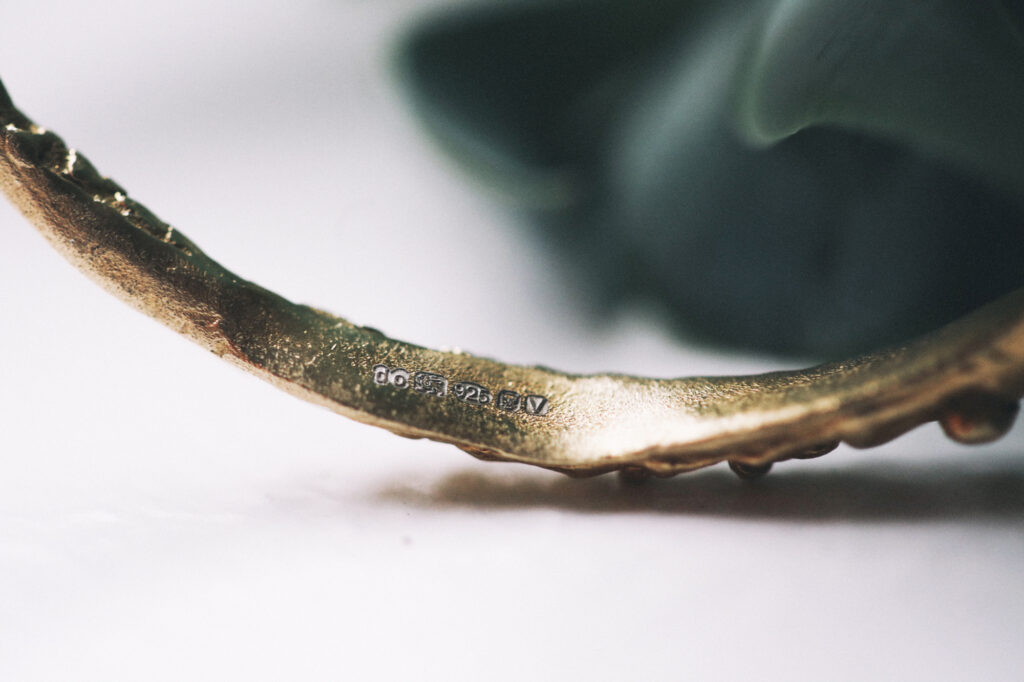 • The 1st mark from the left is Sponsor's Mark. My maker's mark is do. This is a unique mark for every person/company.
• The 2nd from the left is the traditional mark. Lion mark indicates it's sterling silver.
• The 3rd mark shows the fineness of the metal i.e. purity of the precious metal content in parts per 1000 in relation to the standard recognised in the UK. In the image it's 925 silver. However, a stamp of 375 tells us we are buying 9ct gold, 585 means it's 14ct gold and 750 means it is 18ct gold.
• The 4th mark symbol shows which Assay Office tested and marked the item. In my case it's the London Assay office and the marking is the leopard's head.
• The final marking is Date Letters. V letter that is shown on the cuff is for 2020.